Saint Joseph's Imaging Associates  is the proud sponsor of Angele Carpenter's story.
In the sport of triathlon, you race according to what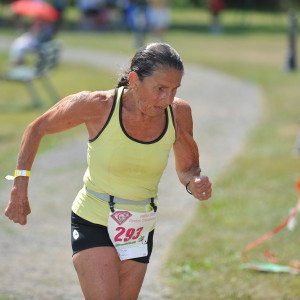 your age is on December 31st of that race year.  That means that when Angele Carpenter approaches the starting line of the Gillie Girl Sprint Triathlon on July 20th of 2014, she will be racing as a 77 year old.   In reality, less than a month after the race, s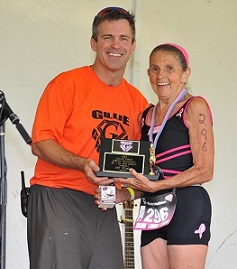 he will officially celebrate her 77th birthday.
For the last two years, Angele's fellow competitors have been inspired by the fact that Angele is 'doing' a triathlon, but more inspired that she is in the thick of the competition.
Inspired by a diagnosis of osteopenia, Angele found motivation to exercise.   With a family history, she chose a path to reverse her diagnosis and prevent her genetic predisposition.  Her desire is a testament to her character.
Looking at Angele as a well conditioned athlete, motivates and uplifts her lady competitors (and spectators) when they see her in action.   Angele Carpenter looks like the fierce competitor with an athletic physique.  But how many 76 year olds have the muscular definition of a teenager?  Her race face on game day is a look of determination that matches her physique.  But despite her intensity when she races, this mild-mannered gem is a true delight and a gracious role model for us all to aspire to be.   Keep up the great work Angele and we will all look forward to your finish in July!