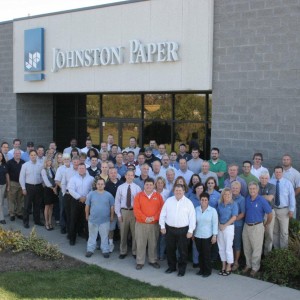 Johnston Paper is the proud sponsor of Kris May's story
There are few people, that you can say changed the course of your life.   Kris May was one of those for me.  In 2000, Kris approached me about strength training his two oldest children, as well as his wife and himself.  It was that connection that completely changed the course of my life, redirected my professional career to the path it has taken, enabled me to find the sport of triathlon and has permitted me the opportunity to be the race director for the Gillie Girl Sprint Triathlon.
Kris and his brother's story is one that has greatly inspired me and sadly I reflect on this, as a tribute to the life of Kris May.  Kris and his brother Mike lost both their parents at a young age.   Their father passed from a heart condition and mother from breast cancer.   Taking over the family business at relatively young ages, the two had to become street wise quickly.  With little formal education (an associates degree between the two), the pair have grown Johnston Paper to the point where it does in two days, what it did in a year.   Johnston Paper has grown to be an 80 million dollar company serving the paper, cleaning and chemical needs of businesses all over the northeast, by focusing on providing the best service to their customers.
Both Kris and Mike have lived with a tenacity to reach new goals, achieve great things, make the sacrifices in life to achieve greatness.   With an understanding of their drive, it's now wonder they have had such phenomenal support from the business community.   While their passion has been their business, like the sport of triathlon, its the accomplishments of the daily grind that create greatness.
Johnston Paper has been one of our top tier sponsors since the inception of the Gillie Girl Sprint Triathlon.  JP was the first sponsor to the table when I proposed the race.   This past year, Kris May lost his life to liver and colon cancer.   I have had the pleasure of watching Kris and his wife Donna raise their three children, David, Ryan and Megan.  Kris, thanks for the support, the wisdom and the inspiration.
Eric Prager / Gillie Girl Race Director