The Carol M. Baldwin Breast Cancer Research Fund of Central New York  has donated over three and a half million dollars for breast cancer research since its inception in 2002.  The donations are established in the form of grants, lectureships and an endowment fund, which are invested solely here in our CNY community.  The research performed with these monies help our medical community find new treatments, establish new guidelines and in time will have played a significant role in finding a cure.  We are fortunate to have a homegrown organization, founded by the Baldwin family of Camillus, NY, make this investment in our community.
Food for thought:  The findings from cancer research can help a wide array of patients, not solely those with breast cancer.  A local urologist commented, "cancer research in our community, regar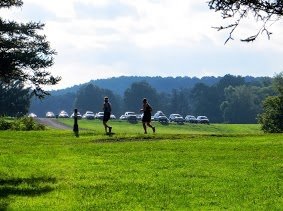 dless of what it is for, is good for all kinds of cancer."  It is common that chemotherapies are found to benefit multiple forms of cancer or may have an off-label benefit that helps someone with another condition, such as an autoimmune disease.  Beyond the scope of who might benefit from the research, there are those who have more aggressive forms of cancer, where the findings might give hope for another month of life.  Each new finding offers another patient a new treatment that might afford them longevity.  There is a little extra security for us all, knowing that our community is investing in this kind of research.
The Gillie Girl Sprint Triathlon  is committed to being part of the cure.  With 100% of its net proceeds going to the Carol M. Baldwin Cancer Research Fund, this one day event has an opportunity to play a significant role in battling this disease.   In its first six years, the Gillie Girl Sprint Triathlon has been able to donate more than $120,000 to the Carol M. Baldwin Breast Cancer Research Fund.   Supporting the race as an athlete, sponsor, volunteer or race day spectator helps this event fund essential research.   Our community benefits from your support and the Gillie Girl Sprint Triathlon is glad to support such a noble cause!
For more information of the Carol M. Baldwin Breast Cancer Research Fund, visit www.findacurecny.org.  To support this event, visit our homepage and click on the links to 'register', 'volunteer', or 'donate.'   Or email gilliegirltriathlon@gmail.com